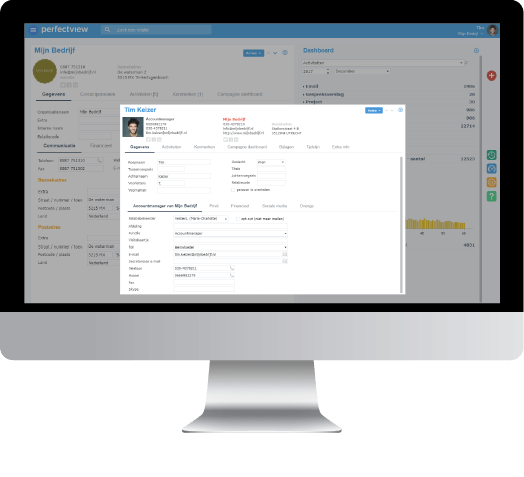 CRM software is the technology behind your CRM system which enables you to execute your Customer Relationship Management strategy. All CRM systems were originally only accessible as an extensive software package which was installed on your computer. Nowadays, Relationship Management is entirely accessible via the cloud.
What can cloud-based Customer Relationship Software do for you?
You will be surprised by the opportunities you create when implementing CRM into your organisation. For example: more leads, more sales per customer, and a higher customer satisfaction. Working more efficiently with your valuable time will offer fast results.
Additionally, this work method gives you the freedom to focus on your core business. This blog by the American research company Forrester from 2017 already predicts that CRM will make the strategic difference for companies in the coming years.
The PerfectView CRM Software takes it one step further. We support you and give you the right tools to turn your core business into a success.
With CRM software, you will get control over your processes. It gives a direct insight into your sales funnel. With PerfectView, you increase the productivity of your team and your organisation. Implementing CRM in your organisation will make all the difference for your team. You can use it for the optimisation of sales, marketing, customer services, and relationship management.
Close deals faster
Send newsletters directly from your CRM system
Make simple, professional quotations in your own layout
Make choices based on clear management reports
Approach all your customer data in one central overview
Get more insight into your sales funnel
No local installation but CRM software Online
For CRM Online from PerfectView there is no need to download anything. This means that no expensive service contracts have to be signed in order to profit optimally. Files and customer information are safely stored in the Dutch cloud, so you can always reach it anywhere and anytime. Working from the cloud is safe and limitlessly scalable. Our servers are located in the Netherlands. Very convenient with respect to the European privacy laws.
ISO certified
During an ISO application process, PerfectView has shown that it meets the highest security requirements. ISO stands for International Organization for Standardization. In other words, such a certificate guarantees that we act in compliance with the international standards for data protection.
Free 14-day trial
You can use PerfectView for free during the 14-day trial period, without any obligations. You can also discover the possibilities with the help of our tips. These two weeks give you the scope to test all features. This also means that you can make full use of our link options. And last but not least, our helpdesk is always here to answer your questions. Would you like to know more?
17,000+ users choose PerfectView.