PerfectView has CRM Apps for iPhone/iPad and Android devices. With the PerfectView Apps, you can manage your relationships anywhere and anytime. You can easily check your to-do list or read a meeting report. Thanks to the integration with your email account, you can send an email to your contact from your mobile App.
The iPhone/iPad and Android Apps are free! Over 17,000 customer-oriented professionals use PerfectView. Customers rate PerfectView with a 9.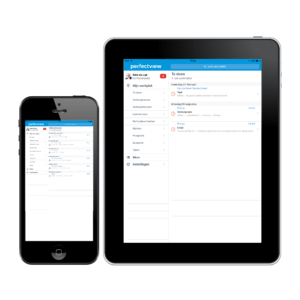 Why do professionals choose mobile CRM from PerfectView?
✓ Your data stored in Europe
✓ Free English-speaking helpdesk
✓ Easy & user-friendly
✓ Starting at €12,50 per month
Discover what CRM can do for you.